Optical Properties of Nanostructured materials

Nanolens
The Raman scattering signal of a substrate is investigated using a polystyrene nanolens of a few hundreds of nanometers inserted within the light path of a confocal microspectrometer. As observed in solid immersion microscopy, the nanolens is at the origin of the improvement of the spatial resolution. Furthermore, enhancement of the Raman scattering signal of the substrate is observed when measuring through the polystyrene bead. The enhancement factors have been measured for silicon, highly ordered pyrolytic graphite and gallium arsenide substrates. This set-up provides a new way of enhancing the Raman signal by means of the use of nanolens. [ref 30]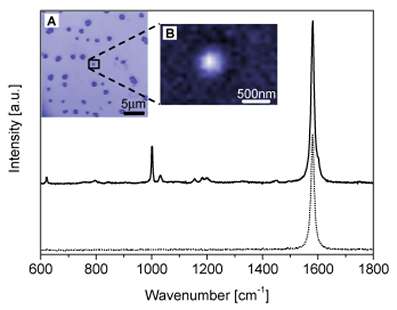 Raman spectra recorded on the HOPG surface near a polystyrene bead (dotted line) and recorded through the polystyrene bead (continuous line). The focusing distance is the same in both measurements. (A) Video image of polystyrene beads (465nm diameter) deposited on an HOPG surface. (B) Raman image obtained by integrating the G line (at about 1600cm-1)of HOPG in a region of 2 x 2.5 µm² around a polystyrene bead.

Nanotubular crystals and Non-Linear Optical properties

Under construction...